Here we'd like to introduce another fantastic vocalist Luciana Souza. She'll visit and perform in Tokyo from June 11 to 13. We look forward to it very much!
Luciana Souza: Interview
Hello Luciana!! How are you feeling about going to Japan in this coming June?
I am VERY excited about returning to Japan, to Tokyo, and especially to the Cotton Club – they were so kind to us last time…
Thank you for coming to Japan! We're so excited to listen to your great music for the first time in those six years in Tokyo! We know that you've released lots of albums and explored your musical universe so far and they were all amazing. Could it be possible for you to let us know about your latest project?

   
My latest project is poetry based.  I have always been very interested in poetry – my mother was a poet and someone who loved language and the power of ideas and words. 
For the last project, I composed all the music and set many famous poets to music, such as Emily Dickinson and Leonard Cohen. 
The band is wonderful, with just guitar and bass – Chico Pinheiro, and Scott Colley.  They will be in Tokyo with me!
What about your approach to picking up a theme for a new project, choosing the songs, and thinking about connecting them to your personality and mixing the Brazilian music and Jazz, and your own compositions?
I have been so privilegesd in my life, in that I have been able to do this before. 
I have done a great deal of setting poetry to music and also in working in a minimalist way, in a duo format, to trio. 
I like the silence, the space, and how the sounds get exposed. 
And how do you teach your students when they are trying to find their own way to express themselves? What do you care most as a teacher?
Well, for me, I always try to serve the student, in whatever he or she needs most, in my opinion. 
For some, it may be phrasing, for some rhythm, for some it may be voice production and technique, for some repertoire. 
I have had some great teachers in my life and it seemed to me that's what they always did – they saw what I needed to work on, even if I didn't see it that way at first.
I heard that many of your previous recordings were produced by you and your partner Larry Klein. But how do you figure out the good balance between you and other great musicians/producers who supports your music and make it work in a better way? 
I am very lucky that I am married to a wonderful musician and producer, who has a ton of experience and who cars for music the way I do. 
The process of working with Larry Klein, my husband, is really easy.  There is so much trust and so much common language…  and we have a lot of fun working together. 
Larry respects the voice of the artist so much, yet he works to create the best possible music together. 
And also about the languages… Could you please tell us how do you think about your lyrics/poetry and also the harmony, groove and other musical aspects because we Japanese singers are always having some issues and your opinion will be a great help for us.
If I am going to set a poem to music, the poem tells me everything.  I usually memorize the poem and live with it for a while, in my brain and in my heart.  I have to fall in love with a poem and identify with it so much that I actually think it is mine! 
When I feel this way, usually, I sit at the piano, or with a guitar, or a percussion instrument, and the poem tells me the rhythm.  I quickly determine what feels natural – phrases in 3/4, or 4/4, or 7/4. 
Whatever it is, I think I always start with the rhythm of the poem and very quickly I hear a landscape of sound – a color, or many colors – that tell me where to start harmonically.  Sometimes it is a groove that begins everything, sometimes a melody comes quickly. 
At that point, I use my knowledge of theory, harmony and rhythm, and my intuition.
Could you let us know who are your musical idols? Please tell me about a couple of your most favorite musicians you've been affected.
Oh, there have been so many…  Tom Jobim, my father, Milton Nascimento, Frank Sinatra, Hermeto Pascoal, Elis Regina, Leny Andrade, Shirley Horn, Carmen McRae, Mercedes Sosa…  So many…
What part of singing Brazilian and Jazz you love the best? And what do you care most as a singer in your music?
The thing I care the most is that the music sounds authentic and honest.  From me.  I care that my music is creative and that my repertoire reflects my beliefs and who I am. 
The musicians I chose also have to have a common language and heart, and be able to be open and inspiring.… 
Please let us know about how to keep yourself so creative and keep giving a lot to people around you.
Well, music feeds me.  It is only natural to want to commune and share.  But I also need a lot of solitude and quiet time.  I need silence in order to hear sound.
For the closing of this interview, if you have any message for Japanese followers and singers, please let us know!!
I am very happy to come back to Japan.  As you all may know, Brazil has a deep connection with Japan – I even have a Japanese uncle, who married one of my aunts. 
I think the cultures have many differences but admire each other very much.  I, personally, always enjoy my time with Japanese audiences.  Everyone is so attentive and appreciative. 
THANK YOU FOR YOUR SUPPORT!!!
I look forward to coming to Tokyo!
Thank you very much and see you soon!!!
Luciana Souza – Biography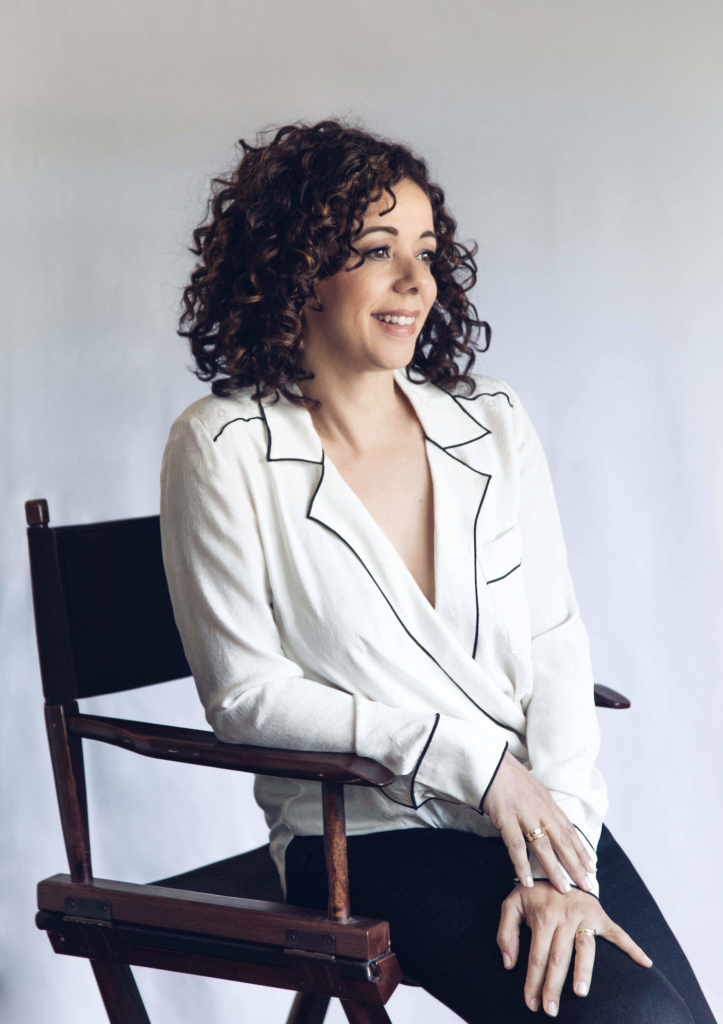 Grammy winner Luciana Souza is one of Jazz's leading singers and interpreters. Born in São Paulo, Brazil, Ms. Souza grew up in a family of Bossa Nova innovators – her father, a singer and songwriter, her mother, a poet and lyricist. Luciana's work as a performer transcends traditional boundaries around musical styles, offering solid roots in jazz, sophisticated lineage in world music, and an enlightened approach to new music.
As a leader, Luciana Souza has been releasing acclaimed recordings since 2002 – including her six Grammy-nominated records Brazilian Duos, North and South, Duos II, Tide, Duos III, and The Book of Chet. Her debut recording for Universal, The New Bossa Nova, was produced by her husband, Larry Klein, and was met with widespread critical acclaim. Luciana's recordings also include two works based on poetry – The Poems of Elizabeth Bishop And Other Songs, and Neruda. Of her 2015 release, Speaking in Tongues, The New York Times said: "Luciana Souza has used her voice as an instrument of empathy and intimacy, cultural linkage and poetic disquisition… singing wordlessly but with full expressive intent." Ms. Souza has performed and recorded with luminaries including Herbie Hancock (on his Grammy winning record, River – The Joni Letters), Paul Simon, James Taylor, Bobby McFerrin, Maria Schneider, Danilo Perez, and many others.
Her longstanding duo work with Brazilian guitarist Romero Lubambo has earned her accolades across the globe, and her complete discography contains more than sixty records as a side singer. Luciana Souza's singing has been called "transcendental, "perfect, " and of "unparalleled beauty. " Entertainment Weekly writes, "Her voice traces a landscape of emotion that knows no boundaries." Of her work with the chamber music ensemble, A Far Cry, the Boston Globe said: "Her performance was more than beautiful. It was consolatory, and true to the work's air of ultimate things."
Luciana Souza has been a prominent soloist in two important works by composer Osvaldo Golijov – La Pasion According to St. Mark, and Oceana. She has performed with the Bach Akademie Stuttgart, the Boston Symphony Orchestra, and the Brooklyn Philharmonic. Other orchestral appearances include performances with the New York Philharmonic, the Atlanta Symphony, the Los Angeles Philharmonic, the Los Angeles Chamber Orchestra and the American Composers Orchestra. Her work in chamber music includes a fruitful collaboration with the Los Angeles Guitar Quartet, composers Derek Bermel, Patrick Zimmerli, and the five composers of The Blue Hour – Rachel Grimes, Angelica Negrón, Shara Nova, Caroline Shaw, and Sarah Kirkland Snyder – a setting of a poem by Carolyn Forché.
Ms. Souza began her recording career at age three with a radio commercial, and recorded more than 200 jingles and soundtracks, becoming a first-call studio veteran at age sixteen. She spent four years on faculty at Berklee College of Music in Boston, where she received a Bachelor's in Jazz Composition. Ms. Souza earned a Master's degree in Jazz Studies from New England Conservatory of Music and taught for four years at Manhattan School of Music, in New York City. Ms. Souza continues to teach Master Classes all over the world. From 2005 to 2010, Luciana was the Jazz Artist in Residence with the prestigious San Francisco Performances. In 2005 and 2013 Luciana was awarded Best Female Jazz Singer by the Jazz Journalists Association. Billboard magazine has said of Luciana: "she continues her captivating journey as a uniquely talented vocalist who organically crosses genre borders. Her music soulfully reflects, wistfully regrets, romantically woos, joyfully celebrates…"