Here we have an interview from amazing artist – Becca Stevens!
Becca Stevens – Biography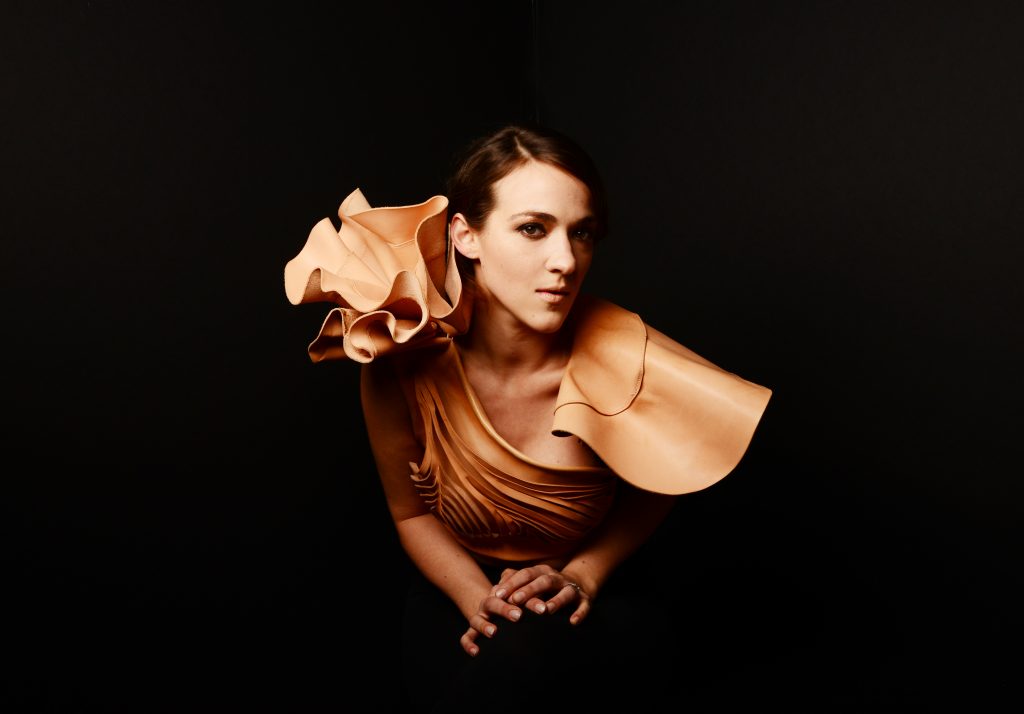 Always reaching, always expanding, Becca Stevens reinvents herself once again with Regina. In the years since the release of her critically acclaimed third album, Perfect Animal, Stevens has undertaken a journey that began with a study of Queen Elizabeth I as inspiration for a commission to write a concert of new music, which expanded into tributes to various queens from history, literature, folklore, and her own imagination, songs inspired by the regal and divine, and finally Regina as a voice, like a trusted friend or an alter ego.
As for her muse for the album, Stevens explains, "Regina is like an alter ego, or an imaginary friend. Like a dream, she exists separate from me but is reliant upon my consciousness to exist. I carry her with me in everything now. So I guess you could say that neither ends; in Becca, there is always Regina, and in Regina, there is always Becca."
Produced by Troy Miller, Regina features creative and performance collaborations with Snarky Puppy's Michael League, Jacob Collier, Laura Mvula, and the legendary David Crosby. The album was recorded in several phases – in London with Miller, a second London session with Collier (a co-producer on the album along with Stevens and League), a session with Miller in Brooklyn, NY, a session with League in Brooklyn and a final session with League and Stevens' bandmates in Brooklyn as well. Additional collaborators include Alan Hampton, Jo Lawry and the award-winning Attacca String Quartet as well as Stevens' trusted band members Liam Robinson, Chris Tordini, and Jordan Perlson (performing here).
The New York Times, describes Stevens as 'a best-kept secret' and 'impressively absorbing'. She has recently featured on Snarky Puppy's new Family Dinner Volume 2 as well as collaborating with various artists such as Esperanza Spalding, Billy Childs, Timo Andres, Brad Mehldau, Jose James, and recently on David Crosby's new tour Lighthouse.
Stevens style has always evaded categorization, and with Regina, even more so. One hears pop, rock, R&B and funk side-by-side with traditional Appalachian and British folk, classical, world music, and jazz. Intricate instrumentation and rhythms seamlessly intertwine with vocals and melodies that work their way into your brain. Stevens has been compared to Bjork, St Vincent, Tori Amos and Joni Mitchell and is certainly making her mark on the international music scene in a big way, establishing herself as a long term and important artist for the future.
Becca Stevens – INTERVIEW
Hello Becca! How do you feel about going to Japan this coming July 2017? 
Very excited! Japan is one of my most favorite places to visit. I feel weirdly at home in Japan! I really connect with the people there, the surroundings, and the mentality.
Could you let us know about a couple of your most favorite musicians? And how you've been influenced by them?
Some of my favorites… Björk, Thom Yorke from Radiohead, Kendrick Lamar, Michael Jackson, Nai Palm from Hiatus Kaiyote, and Elliot Smith, to name a few!
The music of these people all spoke to me for the same reason: authenticity. Each of these people are fearlessly and unapologetically honest and authentic through their art. There is no one else like them, they are all one of a kind and always ahead of the curve, creating refreshing beautiful art that's like nothing you've ever experienced before. I love that.
What part of singing jazz you love the best?

(Of course we know your style is beyond categorization, but since this is a jazz singer's community, we'd like to know about you and jazz.) 
The freedom! I love singing standards, and diving in with no plan or pre-conceived notion of where I'll go, or where we'll end. Studying jazz solidified that sense of limitlessness in my musical experience.
What do you care most in your music, songwriting and stage?
Similar to my answer to question #2, authenticity is a very high priority for me. I'm drawn to and very passionate about originality. Every person on this planet is the one and only version of themselves, and art is a chance to express that individuality.
Expressing someone else's truth instead of my own has never appealed to me. I will always follow my muse, and whatever inspires me most to create the art that is the truest expression of my soul.
 How about the recording? Could you share your experience about CD making?
Making an album is also a similar process to my answer above. I follow the muse through every moment. There's a lot of planning involved too, but in each moment, I'm constantly checking back in to make sure the inspiration is there. I really love being in the studio. My mind works like a producer. I hear my music in layers when I'm writing it, and I see my bodies of work as stories, like a piece from start to finish rather than a bunch of songs that just happen to be on the same CD. I wish I could spend 3 months in the studio doing nothing else but being in the studio each time I make an album! That would be a dream come true. I love being there and creating in that environment.
What do you like about teaching? And what do you care most when you teach? (Since this is a singer's community in Japan, they're interested in your teaching too!)
Teaching is one of my favorite things to do. I feel most balanced as an artists when I'm doing some sort of combination of teaching, writing, and performing. Teaching inspires me most out of the three. It fills me up so much, and I learn as much as any of my students.
Similar to writing and recording, if I'm not feeling inspired then it's an indication that my students probably aren't either and that I need to change course to find the muse. A great day of teaching for me is when everyone leaves feeling inspired.
Please let us know about how to keep yourself so creative and keep giving a lot to people around you.
I find the things that feed my creativity and inspiration and I nourish them when I can. I get very inspired by others, so I try to make sure I'm connecting with people, and nature. I try to stay present and positive.
Keeping a positive outlook is difficult, but very necessary in the music business. There are constant challenges, but if you love what you do then you'll "make it". Because when you love what you do, you've made it!
There's a great quote that I often think of when people ask how to find success, and how to keep going: Success is not the key to happiness; happiness is the key to success. If you love what you are doing, you will be successful. This quote is often attributed to Buddha, but I'm not totally sure if that's correct! When i've searched for the originator, it's not totally clear who said it first.
Could you give any messages for singers in Japan? Do you feel welcome if one of a singer say that she/he would love to visit you someday? If you have anything to say, please let us know!!
"Be yourself! Everyone else is already taken."! I think that is an Oscar Wilde quote, and I live by it.
You might as well write the music that moves you, instead of creating something that you don't love with the hopes of moving others. If you don't come from an inspired place, you could end up getting stuck performing music over and over again that doesn't make you happy. That to me is hell. If you write music that inspires you and no one else likes it, at least you are performing with a full happy heart.
Thank you very much!!!
Becca Stevens will perform at Cotton Club Tokyo from July 20 to 23.
For more information, please see below.
http://www.cottonclubjapan.co.jp/jp/sp/artists/becca-stevens/