"You can connect somebody else's life to your life.
Or somebody else's life who don't even know each other.
That is really good!"
– Barbara Morrison
Barbara Morrison – Biography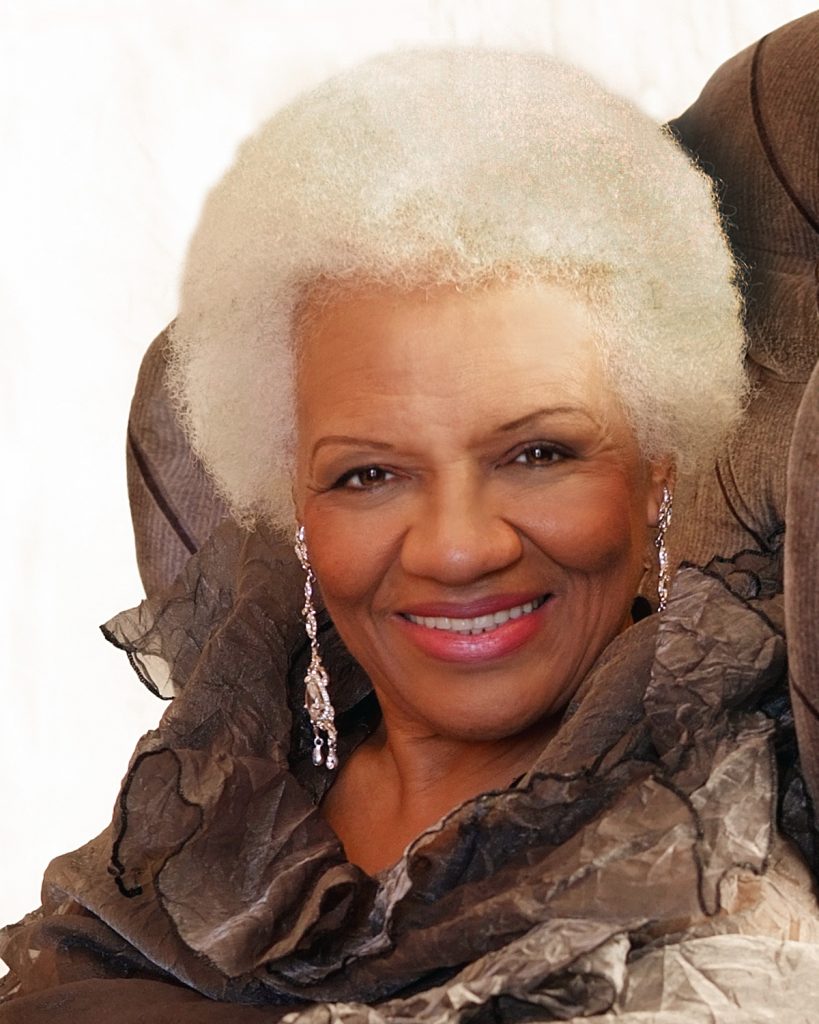 Originally from Detroit, Barbara Morrison's twenty-year career as a performer and recording artist includes appearances worldwide with some of the greatest names in jazz: She has performed with artists such as; Ray Charles, Dizzy Gillespie, Buddy Collette, Joe Williams, Gerald Wiggins, Jimmy Witherspoon, Hank Crawford, Eddie Harris, Nancy Wilson, David T. Walker, Santana and Jimmy Smith name a few. She has performed in such highly regarded venues as Carnegie Hall, the North Sea Jazz Festival, the Bern Jazz Festival and the Playboy Jazz Festival etc.
Barbara Morrison – Interview
Hello Barbara!! How do you feel about going to Japan this coming July 2017?
I am very excited to see friends & fans in Japan!
I am also going with my friends. I can't get any better than that!
Could you let us know about a couple of your most favorite musicians?
I have lots of my favorite musicians… and if I say…
My favorite pianist is Stuart Elster.
I have 3 favorite Bassists, Richard Simon, Richard Taylor, and Michael Saucier
My farovite drummer is Peter Buck and my favorite guitarists are
Charles Small and Yu Ooka!!
What part of singing Jazz & Blues you love the best?
I love Blues. Of course everybody loves Blues, but I love any genres of music, R&B, Country music, Rock, and jazz.
If you talk about Blues, Delta Blues is my favorite.
It is just because Delta Blues is soul and Roots of the Blues from old country, this is the beginning.
I think this is all the Blues came from.
Modern blues is good, Joe Williams is cool, but I like the old stuff because I am old! Ahaha!
What do you care most in your music?
Presentation and
My main focus is "staying on pitch".
I get really mad at myself when I can't control my pitch.
It happens when I didn't have enough sleep or exercise to use my muscle enough to stay on pitch.
Do you exercise?
Yes, I still exercise because I am double amputated on my legs and singing on a chair needs more muscle.
I am an old lady, but my muscle is still there.
I really like to hear singers stay on a pitch and singing in intervals.
 How about the recording? Could you share your experience about CD making?
Specially in a studio, I focus on my pitch.
I love to record and I love to listen people record.
I sometimes leave it in a couple weeks and listen back to hear if my pitch is ok.
I am a picky picky person. Ahaha.
My latest CD is out recently, but I was not surtisfied with my pitch.
I did a album recording with Clark Terry(tp) and James Moody(sax) and an enginner lost all of the files.
This is the worst experience I've ever had.
Both of them have passed away already and there is no chance to record together.
I also recorded for famous artists and famous singers, too.
I sung a demo for Nancy Wilson & Etta James.
One day Crusaders asked me to sing for Nancy Wilson and of course, Joe Sample & Wilton Felder were in the studio.
The song was called, "The way it goes".
It was the nicest experience for me to sing for her.
We know that you've been teaching every Wednesday night at Barbara Morrison Performing Arts Center. What brought you to start working as an educator? What do you like about teaching? And what do you care most as a teacher? And what is your goal as an educator?
I like younger people.
I get to learn from them. They are like sponges.
They want to know everything, but sometimes I can't answer to their questions.
I need to study and learn, too. That gives me to chance to learn.
Also I can build my new repertoires from them bringing different new songs because I assign to bring their 2 songs in a week.
I'd like to see light bulb goes on when my students get it.
Like "Oh! I see what's you mean!"
That is really exciting and the most rewarding part for me.
Unless they get it, they will come back.
I had a medley assignment with 3 songs blending together.(Lyrics & melody together)
One of my students had no ideas in the beginning, but when she was singing at the end, she was amazing.
As a singer, you have to tell the story.
There is a lot of love songs and a lot of hate songs. Different types of songs.
You need to understand how to blend lyrics specially.
I was listening one of the other teachers the other night.
He connected to his story very nicely with the lyrics of a song.
Different things in your life and make a good story.
You can connect somebody else's life to your life.
Or somebody else's life who don't even know each other.
That is really good!
How many repertoires do you have?
I have at least 4000 repertoires.
It sounds like impossible, but I know the songs.
Please let us know about how to keep yourself so creative and keep giving a lot to people around you.
You got to stay up!
Throw out from all the negativities.
There are many negative people or negative things happen in your life, but Keep moving!
You got to know that the universe has something for you that you can succeed.
Keep it moving and stay up!
You got to look for people that are up and surround yourself people that are up.
When it comes the time, you have to stand still because what you are looking is looking for you can't find find because you walk too fast.
Kenny Rogers said "You've got to know when to hold them. Know when to fold them".
Could you give any messages for singers in Japan? Do you feel welcome if one of a singer say that she/he would love to visit you someday? If you have anything to say, please let us know!!
I'd like to say this to all the singers in Japan.
I have seen singers have good confidence or not enough confidence in Japan and it is the same here, in US.
I'd like to see them relax more and believe in yourself that you can do it.
Don't worry about somebody else says about your singing or what people thinking about your singing! Don't be so critical about yourself.
God gave you the same tools that he gave all other boys and girls.
I am really hoping to see all of you in Japan soon!!
Thank you very much for your warm contribution!!